Toyota Vios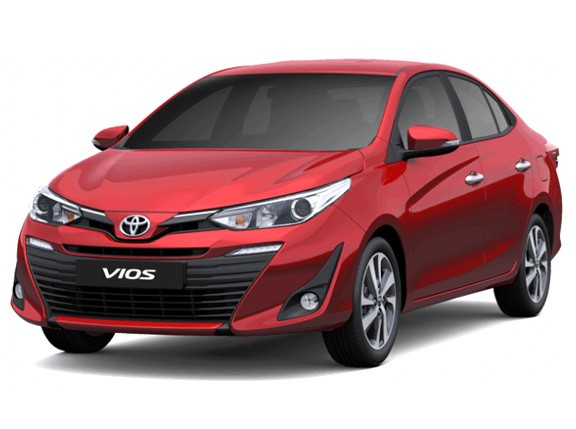 Toyota Vios
The new gen Vios carries over the winning formula of its predecessor but this time Toyota gave it an edgier design. Like the new Yaris, it adopts the same design langauge with more dramatic lines and more defined creases. Inside it also receives a restyled dashboard with a more integrated infotainment system.
Like before, there are two Dual-VVTi gasoline engine options, a 1.3-liter mill which produces 98hp and 123Nm of torque, and a larger 1.5-liter unit wich produces 106hp and 140Nm of torque. Both engines can be ordered with either a 5-speed manual transmission or a new CVT with sequential control.
White Pearl paint is available on 1.5 variants for an additional P15,000.
Specifications
Body Type
Sedan
Fuel Option
Gasoline
Engine Disp.
1.3, 1.5
No. of Doors
4
Horsepower
98, 106
Dimensions
4425 x 1730 x 1475
Colors

White Pearl

Freedom White

Black

Alumina Jade Metallic

Red Mica Metallic

Blackish Red Mica Metallic

Grayish Blue Mica Metallic

Thermalyte

Super Red
| | |
| --- | --- |
| Seating Capacity | 5 |
| Transmission | Manual, CVT |
| Drivetrain | FWD |
| Engine Type | inline-4 |
| Torque (Nm) | 123, 140 |
| Paint Finish | Glossy,Metallic,Pearl |
Php 659,000 - Php 1,095,000
Variants
Car Compare Please take note that you are only allowed to compare a maximum of 4 Vehicles.
Variant
Transmission
Engine Disp.
Price
Colors
Features
Toyota Vios 1.3 Base M/T
Manual
1.3
Php 659,000

Freedom White

Driver and Passenger Airbags, Airbags (Side / Curtain), Knee airbag (driver), ABS (Anti-Lock Brake System), Electronic Stability Program, Hill Start Assist, 2-speakers, Steel rims
Toyota Vios 1.3 J M/T
Manual
1.3
Php 685,000

Freedom White

Black

Alumina Jade Metallic

Red Mica Metallic

Blackish Red Mica Metallic

Grayish Blue Mica Metallic

Thermalyte

Super Red

Driver and Passenger Airbags, Airbags (Side / Curtain), Knee airbag (driver), ABS (Anti-Lock Brake System), Electronic Stability Program, Hill Start Assist, 2-speakers, Steel wheels with cover
Toyota Vios 1.3 E M/T
Manual
1.3
Php 828,000

Freedom White

Black

Alumina Jade Metallic

Red Mica Metallic

Blackish Red Mica Metallic

Grayish Blue Mica Metallic

Thermalyte

Super Red

Driver and Passenger Airbags, Airbags (Side / Curtain), Knee airbag (driver), ABS (Anti-Lock Brake System), Electronic Stability Program, Hill Start Assist, Steering wheel mounted controls, Touch Screen Input, 4-speakers
Toyota Vios 1.3 E CV/T
Continuously Variable
1.3
Php 878,000

Freedom White

Black

Alumina Jade Metallic

Red Mica Metallic

Blackish Red Mica Metallic

Grayish Blue Mica Metallic

Thermalyte

Super Red

Driver and Passenger Airbags, Airbags (Side / Curtain), Knee airbag (driver), ABS (Anti-Lock Brake System), Electronic Stability Program, Hill Start Assist, Steering wheel mounted controls, Touch Screen Input, 4-speakers
Toyota Vios 1.3 E Prime M/T
Manual
1.3
Php 883,000

Freedom White

Black

Alumina Jade Metallic

Red Mica Metallic

Blackish Red Mica Metallic

Grayish Blue Mica Metallic

Thermalyte

Super Red

Driver and Passenger Airbags, Airbags (Side / Curtain), Knee airbag (driver), ABS (Anti-Lock Brake System), Electronic Stability Program, Hill Start Assist, Steering wheel mounted controls, Touch Screen Input, 4-speakers
Toyota Vios 1.3 E Prime CV/T
Continuously Variable
1.3
Php 933,000

Freedom White

Black

Alumina Jade Metallic

Red Mica Metallic

Blackish Red Mica Metallic

Grayish Blue Mica Metallic

Thermalyte

Super Red

Driver and Passenger Airbags, Airbags (Side / Curtain), Knee airbag (driver), ABS (Anti-Lock Brake System), Electronic Stability Program, Hill Start Assist, Steering wheel mounted controls, Touch Screen Input, 4-speakers
Toyota Vios 1.5 G M/T
Manual
1.5
Php 981,000

White Pearl

Freedom White

Black

Alumina Jade Metallic

Red Mica Metallic

Blackish Red Mica Metallic

Grayish Blue Mica Metallic

Thermalyte

Super Red

Driver and Passenger Airbags, Airbags (Side / Curtain), Knee airbag (driver), ABS (Anti-Lock Brake System), Electronic Stability Program, Hill Start Assist, Steering wheel mounted controls, Touch Screen Input, Engine Push Start/Stop Button, Stereo (6-Speaker), Projector headlights, Daytime Running Lights, Auto Climate Control
Toyota Vios 1.5 G CV/T
Continuously Variable
1.5
Php 1,040,000

White Pearl

Freedom White

Black

Alumina Jade Metallic

Red Mica Metallic

Blackish Red Mica Metallic

Grayish Blue Mica Metallic

Thermalyte

Super Red

Driver and Passenger Airbags, Airbags (Side / Curtain), Knee airbag (driver), ABS (Anti-Lock Brake System), Electronic Stability Program, Hill Start Assist, Steering wheel mounted controls, Paddle Shifters, Touch Screen Input, Engine Push Start/Stop Button, Stereo (6-Speaker), Projector headlights, Daytime Running Lights, Auto Climate Control
Toyota Vios 1.5 G Prime CV/T
Continuously Variable
1.5
Php 1,095,000

White Pearl

Freedom White

Black

Alumina Jade Metallic

Red Mica Metallic

Blackish Red Mica Metallic

Grayish Blue Mica Metallic

Thermalyte

Super Red

Driver and Passenger Airbags, Airbags (Side / Curtain), Knee airbag (driver), ABS (Anti-Lock Brake System), Electronic Stability Program, Hill Start Assist, Steering wheel mounted controls, Paddle Shifters, Touch Screen Input, Engine Push Start/Stop Button, Stereo (6-Speaker), Projector headlights, Daytime Running Lights, Auto Climate Control