Isuzu D-Max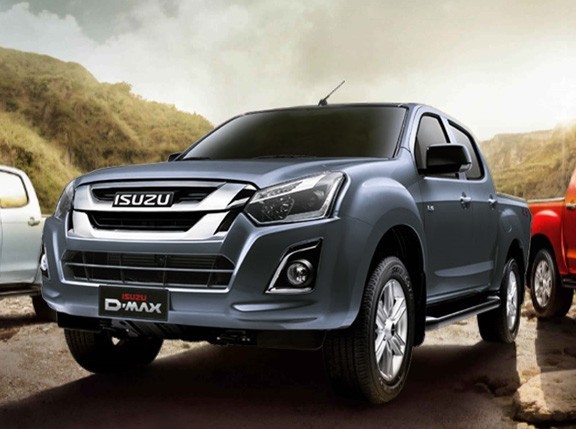 Isuzu D-Max
The tough and fuel efficient D-Max gets even better. It now features a redesigned exterior with a new hood and grille which are flanked by new projector headlamps with LED daytime running lamps. At the rear is a new tailgate with an integrated spoiler. The refreshed 3.0-liter D-Max variants come standard with electronic stability control, traction control system, and hill start assist. A reverse camera is also standard as well. It also gets an 8-inch touchscreen infotainment system with text-to-speech navigation capability.
An upgraded Euro 4-compliant Blue Power 3.0-liter VGS turbo oil-burner which makes 175hp and 380Nm of torque powers the higher-end variants. The old 161hp 3.0-liter VGS and 108hp 2.5-liter unit are still offered. A manual 5-speed transmission comes as standard while a 5-speed automatic transmission option is available on 3.0-liter variants. Buyers can choose between 4x2 and 4x4.
Specifications
Body Type
Pick-up
Fuel Option
Diesel
Engine Disp.
2.5, 3.0, 3.0
No. of Doors
4
Horsepower
108, 161, 175
Dimensions
5295 x 1775 - 1860 x 1685 - 1795
Colors

Splash White

Garnet Red

Cosmic Black Mica

Obsidian Gray

Titanium Silver

Venetian Red
| | |
| --- | --- |
| Seating Capacity | 5 |
| Transmission | Manual, Automatic |
| Drivetrain | RWD, 4WD |
| Engine Type | In-Line 4 |
| Torque (Nm) | 280, 380, 380 |
| Paint Finish | Metallic |
Php 1,002,000 - Php 1,720,000
Variants
Car Compare Please take note that you are only allowed to compare a maximum of 4 Vehicles.
Variant
Transmission
Engine Disp.
Price
Colors
Features
Isuzu D-Max 2.5 LT 4x2 M/T
Manual
2.5
Php 1,002,000

Splash White

Titanium Silver

Airbag (Driver's Side), ABS (Anti-Lock Brake System), Steel rims
Isuzu D-Max 2.5 LT-X 4x2 M/T
Manual
2.5
Php 1,065,000

Splash White

Titanium Silver

Cosmic Black Mica

Venetian Red

Airbag (Driver's Side), ABS (Anti-Lock Brake System), Alloy Wheels
Isuzu D-Max 3.0 LS 4x2 M/T
Manual
3.0
Php 1,220,000

Splash White

Titanium Silver

Cosmic Black Mica

Venetian Red

Obsidian Gray

Front Dual SRS Airbags, ABS (Anti-Lock Brake System), Traction Control, Central Power Locking, Fog lamps, Stereo (6-Speaker), Bluetooth, Leather seats, Alloy Wheels, Touch Screen Input
Isuzu D-Max 3.0 LS 4x2 A/T
Automatic
3.0
Php 1,290,000

Splash White

Titanium Silver

Cosmic Black Mica

Venetian Red

Obsidian Gray

Front Dual SRS Airbags, ABS (Anti-Lock Brake System), Traction Control, Central Power Locking, Fog lamps, Stereo (6-Speaker), Bluetooth, Leather seats, Alloy Wheels, Touch Screen Input
Isuzu D-Max 2.5 LT 4x4 M/T
Manual
2.5
Php 1,308,000

Splash White

Titanium Silver

Airbag (Driver's Side), ABS (Anti-Lock Brake System), Steel rims
Isuzu D-Max 3.0 LS 4x2 Blue Power M/T
Manual
3.0
Php 1,320,000

Splash White

Titanium Silver

Garnet Red

Cosmic Black Mica

Obsidian Gray

Front Dual SRS Airbags, ABS (Anti-Lock Brake System), Traction Control, Central Power Locking, Fog lamps, Stereo (6-Speaker), Bluetooth, Leather seats, Alloy Wheels, Touch Screen Input
Isuzu D-Max 3.0 LS 4x2 Blue Power A/T
Automatic
3.0
Php 1,390,000

Splash White

Titanium Silver

Garnet Red

Cosmic Black Mica

Obsidian Gray

Front Dual SRS Airbags, ABS (Anti-Lock Brake System), Traction Control, Central Power Locking, Fog lamps, Stereo (6-Speaker), Bluetooth, Leather seats, Touch Screen Input
Isuzu D-Max 3.0 LS 4x4 M/T
Manual
3.0
Php 1,530,000

Splash White

Titanium Silver

Cosmic Black Mica

Venetian Red

Obsidian Gray

Front Dual SRS Airbags, ABS (Anti-Lock Brake System), Traction Control, Central Power Locking, Fog lamps, Stereo (6-Speaker), Bluetooth, Leather seats, Alloy Wheels, Touch Screen Input
Isuzu D-Max 3.0 LS 4x4 A/T
Automatic
3.0
Php 1,600,000

Splash White

Titanium Silver

Cosmic Black Mica

Venetian Red

Obsidian Gray

Front Dual SRS Airbags, ABS (Anti-Lock Brake System), Traction Control, Central Power Locking, Fog lamps, Stereo (6-Speaker), Bluetooth, Leather seats, Alloy Wheels, Touch Screen Input
Isuzu D-Max 3.0 LS 4x4 Blue Power M/T
Manual
3.0
Php 1,650,000

Splash White

Garnet Red

Cosmic Black Mica

Obsidian Gray

Front Dual SRS Airbags, ABS (Anti-Lock Brake System), Traction Control, Central Power Locking, Fog lamps, Stereo (6-Speaker), Bluetooth, Leather seats, Alloy Wheels, Touch Screen Input
Isuzu D-Max 3.0 LS 4x4 Blue Power A/T
Automatic
3.0
Php 1,720,000

Splash White

Garnet Red

Cosmic Black Mica

Obsidian Gray

Front Dual SRS Airbags, ABS (Anti-Lock Brake System), Traction Control, Central Power Locking, Fog lamps, Stereo (6-Speaker), Bluetooth, Leather seats, Alloy Wheels, Touch Screen Input